How did a major East Coast university save 20% on two custom bus shelters for its largest turn-around? By reaping the benefits of value-engineered options by Duo-Gard.
"Initially, the project was significantly over budget. Duo-Gard's VE options maintained the structures' aesthetic, yet saved the required amount of money to allow the project to move forward to completion with the design intent intact," says Michael Arvidson, executive vice president.
The turn-around previously provided no protection for waiting students until the Duo-Gard shelters were recently installed. Because cars are not allowed on campus, students rely on shuttles. And weather in this region can be harsh.
"These shelters reportedly are getting heavy use already," says Justin Watts, project manager, "and winter's just around the corner."
The two shelters – one measuring 16'x10', the other 48'x10 – feature ¾" laminated glass glazing with steel framing, rafters, purlins and columns. The supporting columns are also wrapped in 1/8" aluminum cladding which encloses electrical wiring that powers custom LED lighting throughout.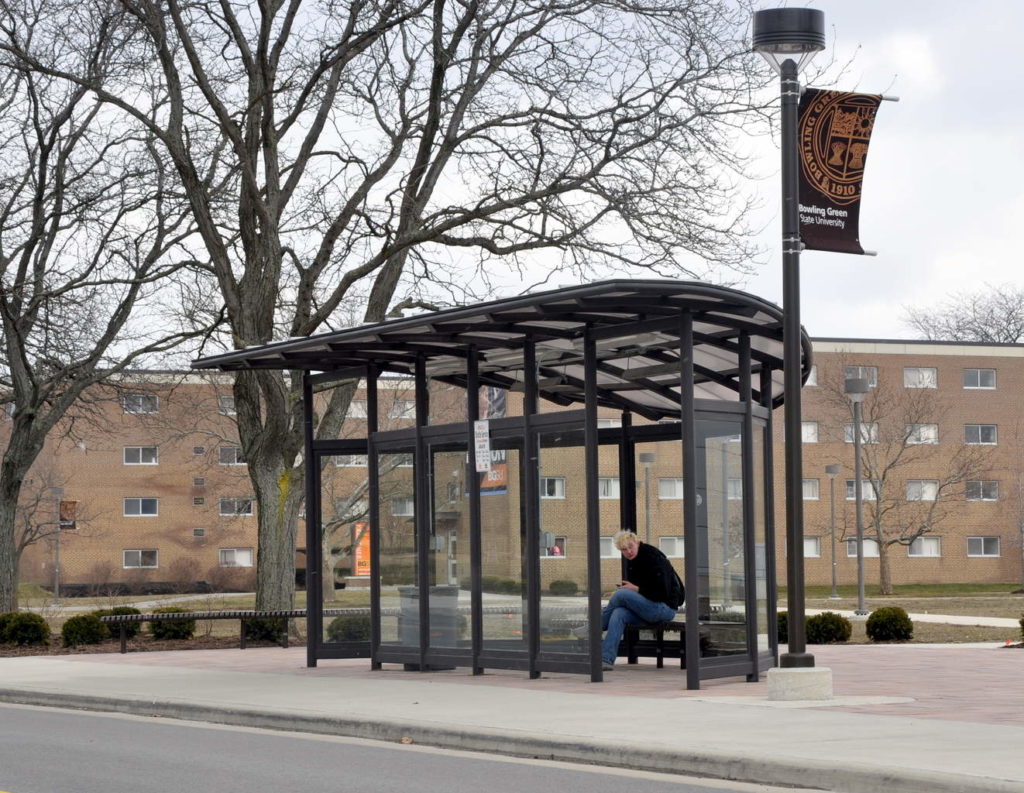 "Like all Duo-Gard shelters, these were specifically engineered for the region's climatic conditions, including wind and snow load," says Watts.
The customer wanted a clean, contemporary aesthetic for the shelters. The shelters' glazing, including an unusual glass roof on each, features satin etching which enhances the aesthetic and provides shading. Special spider clips secure the glass roofs, and specialized machinery was used to install the large slabs.
"Due to its thickness, screen printing and finished edges, this special glass was expensive," says Arvidson, "and had to be handled with precision. We researched the best method and located a machine that picked up the slabs and placed them atop the shelters." He said this saved installation costs and eliminated potential contractor errors.
Framing at Duo-Gard's in-house steel fabrication facility featured hot-dip galvanizing with a gray Tnemec top coat for durability and longevity. Because the site slopes, the original design called for posts of varying heights, adding engineering and fabrication challenges. Duo-Gard recommended the foundation be adjusted to accommodate all posts of the same height, adding to the savings. The engineers also adjusted the steel design to achieve maximum efficiency.
"Like all Duo-Gard transit shelters, these were engineered specifically for the region's climatic conditions, including wind and snow loads," said Watts.
Value engineering at Duo-Gard is different, according to Arvidson. "We get very involved in each project," he says, "and our value engineering strategy is aimed at not only saving money for our customer but also ensuring that performance is equivalent – and sometimes superior – to the original intent."