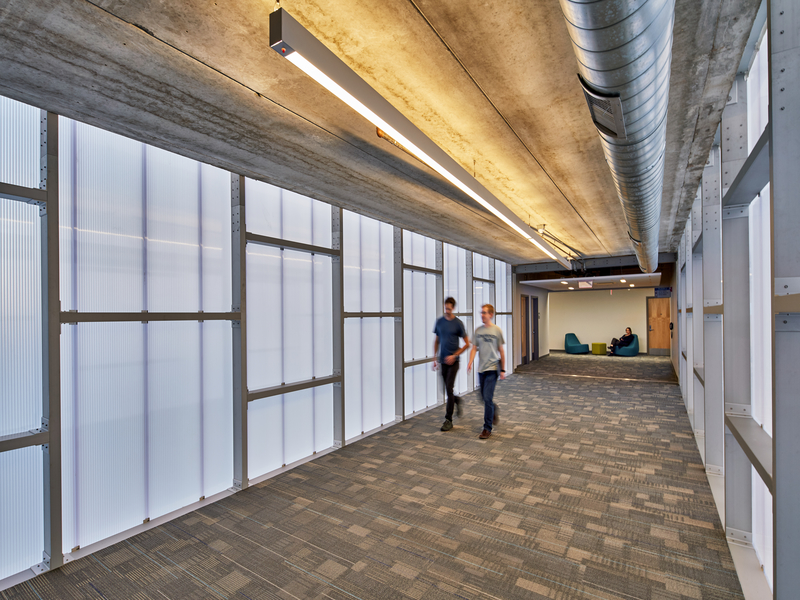 Opened in August 2018, the East Residence Hall at Lawrence Technological University in Southfield, MI is dedicated to helping shift LTU from a commuter school to an independent dynamic campus. Their recent addition of a football program in addition to an influx of international students has caused a rapid increase in student growth, sparking a dramatic and immediate need for on-campus student housing options. This residence hall not only meets this need, but aids in recruitment of prospective students, supports the University's many design programs and student-body social groups, and functions as an iconic residential flagship for the University.
Designed by inFORM Studio in Northville, this new amenity-rich freshman dorm consists of two wings connected by a three-story bridge enclosed with a Duo-Gard Industries translucent wall system. The facility features 308 double rooms, inclusive of multiple study and social lounges on each floor, a music practice suite, a fitness facility, and a large multipurpose space on the ground floor equipped with a full-scale kitchen. "Our concept was to develop spaces for 'community' to flourish," said inFORM's Eric Klooster AIA. "The corridors and congregation spaces facilitate connection and interaction. They were designed to pour natural light into each floor which will highly benefit mental wellbeing in the grey winter months."
In addition to Duo-Gard's translucent wall system on the connection bridge, other building materials include structural curtainwalls atop brick bases around the perimeter of the main floor and large picture windows. Cladding the exterior facade, corrugated metal siding in gray forms the front surface, while a white façade faces the interior courtyard which defines a strong pedestrian presence.
Duo-Gard's Series 3500 Wall is a high-performance translucent glazing system designed for vertical wall applications with long, unbroken expanses. Lawrence Tech's corridor integrates 40mm tongue-and-groove 7-cell multiwall polycarbonate with an opal tint in clear anodized aluminum framing. System has U-value 0.29, SHGC 0.39, light transmission 30% and is NFRC-certified.
"The system's performance, aesthetics and cost all came together right when we needed it," said Klooster, "and it's energy efficient. I like the tongue-and-groove appearance, and the glazing achieves a soft glow with a special lighting quality. I enjoy the clean look of the system with its aluminum framing. We're very pleased with the way it turned out."
Klooster said the new residence hall with its translucent corridor will facilitate recruitment and retention as it enhances community connectivity for this high-profile university envisioned in 1932 by founders Henry and Edsel Ford. Obviously they foresaw the emphasis on Science – Technology – Engineering – Math (STEM) that's so critical in today's educational system.
Photo Credit: Jason Keen